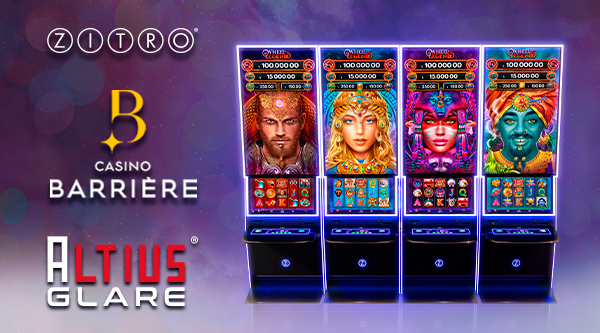 Altius Glare ha hecho su debut en Europa en tres de los principales casinos del Grupo Barrière: Casino Barrière Toulouse, Casino Barrière Lille y Casino Barrière Enghien-les-Bains. Este nuevo gabinete estrella, con una calidad visual nunca vista en la industria, llega con el nuevo Wheel of Legends, un Multijuego Progresivo Link de 4 niveles con 4 títulos de juegos exclusivos protagonizados por 4 personajes míticos. Desde su lanzamiento, Altius Glare ha cautivado a jugadores de todo el mundo gracias a su impresionante formato, que incluye una enorme pantalla de 55″ combinada con una pantalla HD de 27″, que ofrece un espacio gigante para gráficos 4K y un halo de LED inteligente, lo que lo hace brillar con luz propia en las salas de casino de este reconocido grupo.
En este sentido, Fabrice Gerzé, Director de Operaciones de Barrière Group comentó: "Estamos encantados de seguir añadiendo productos de Zitro a nuestra cartera de juegos, ya que sabemos el éxito que han tenido con nuestra valiosa clientela de casinos en el pasado".
Patrice Scatamacchia y Thierry Bugelli, CEO y director de ventas de de CAPS International respectivamente, comentaron: «Estamos orgullosos de colaborar una vez más con Zitro y de continuar con nuestro compromiso de ofrecer a los clientes los productos más innovadores. Estamos seguros de que el nuevo gabinete Altius Glare, junto con su multijuego Wheel of Legends, tendrá tanto éxito en los casinos del Grupo Barrière como lo ha demostrado en todo el mundo".
Nadège Teyssedre, Directora de Ventas de Zitro para EMEA añadió: "Estamos tremendamente orgullosos de nuestras recientes instalaciones en los diferentes casinos del Grupo Barrière. Para nosotros, este es un paso más en nuestra misión de expandirnos por Europa. Altius Glare, junto con sus impactantes imágenes y efectos de sonido de primera calidad, se ha desempeñado extraordinariamente bien en muchos lugares de todo el mundo, y estamos seguros de que los casinos de este grupo líder no son una excepción. Todo el equipo de Zitro agradece al Grupo Barrière por brindarnos la oportunidad de mostrar la calidad y el rendimiento de nuestros productos en sus prestigiosos casinos, y esperamos continuar nuestra asociación".