Zitro reafirma su compromiso con el mercado de juego suizo con la incorporación del gabinete premium Altius Glare en Casino Barrière Montreux. Con un diseño ergonómico, con una enorme pantalla de 55″ combinada con una pantalla Full HD de 27″, este gabinete de slot ofrece a los jugadores una experiencia de juego verdaderamente inmersiva. Altius Glare presenta Wheel of Legends, un multijuego progresivo de 4 niveles que, junto con su poderosa combinación de gráficos, sistema de sonido premium y modelos matemáticos, está demostrando ser un éxito entre los jugadores de slot de todo el mundo.
"Estamos encantados de ver a Altius Glare en vivo en el prestigioso Casino de Montreux, ya que estamos convencidos de que ofrecerá a los jugadores suizos puro entretenimiento al más alto nivel", dijo Nadège Teyssedre, directora de ventas de EMEA de Zitro. "Esta asociación representa otro paso importante en los planes de expansión de la compañía en Suiza".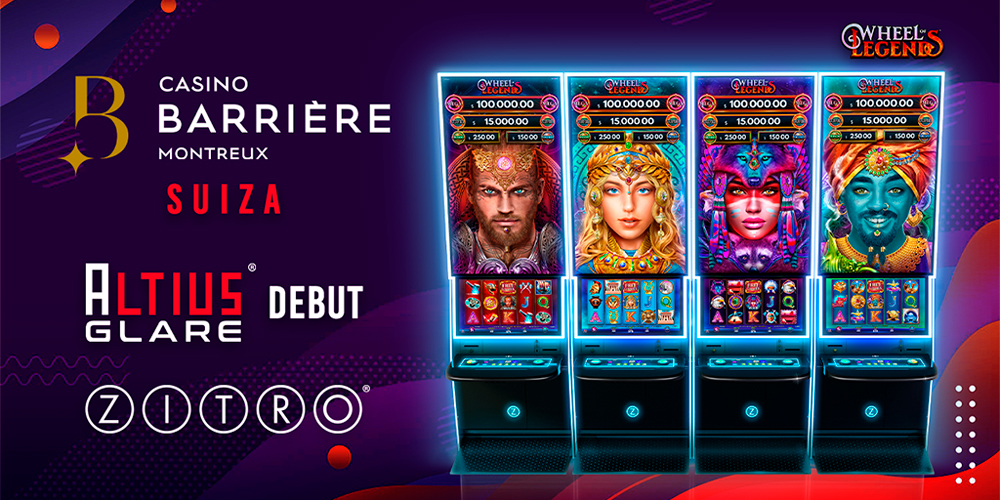 Jerôme Colin, director de Casino Barrière Montreux, comentó "estamos muy orgullosos de traer el gabinete premium de Zitro, Altius Glare, a nuestro casino en Montreux, y de expandir nuestra cartera de juegos con un proveedor de casinos muy conocido y de gran reputación. Estamos seguros de que esta asociación seguirá siendo larga y fructífera para ambas partes".
«Agradecemos a Barrière Group su continuo compromiso con nuestro producto. Confiamos en que Altius Glare, junto con Wheel of Legends, ofrecerá a los clientes una experiencia de juego excepcional y emocionante y, sobre todo, un crecimiento de los ingresos», concluyó Nadège Teyssedre, directora de ventas de EMEA de Zitro.