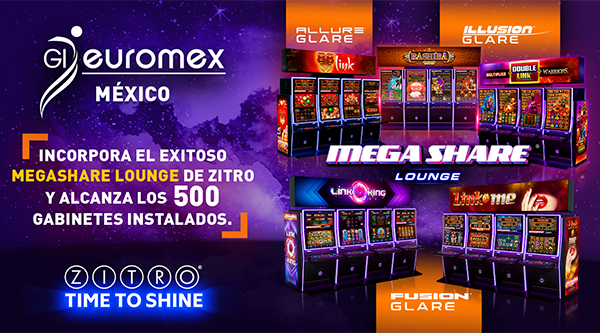 GRUPO GI EUROMEX incorpora a su operación en México el asombroso sistema de progresivos MEGASHARE Lounge y alcanza la importante cantidad de 500 gabinetes desplegados en todo el territorio mexicano.
 MEGASHARE Lounge, incluye inigualables características especiales, entre las cuales destaca que todos los jugadores de MEGASHARE recibirán un premio siempre que algún otro jugador consiga el premio MEGA. De esta forma, todos los jugadores que juegan en MEGASHARE ganan, creando un ambiente de alegría y diversión en la sala.
 Pero eso no es todo, a este fantástico estreno se agrega la instalación de más de 50 Altius Glare con su novedoso multijuego Wheel of Legends. Con una calidad gráfica totalmente inédita, los 4 personajes míticos de Wheel of Legends nos trasladan a un mundo legendario donde será más fácil que nunca, ganar los jackpots MEGA y SUPER. Su presencia es espectacular y se muestra imponente en las salas de juego de GI Euromex.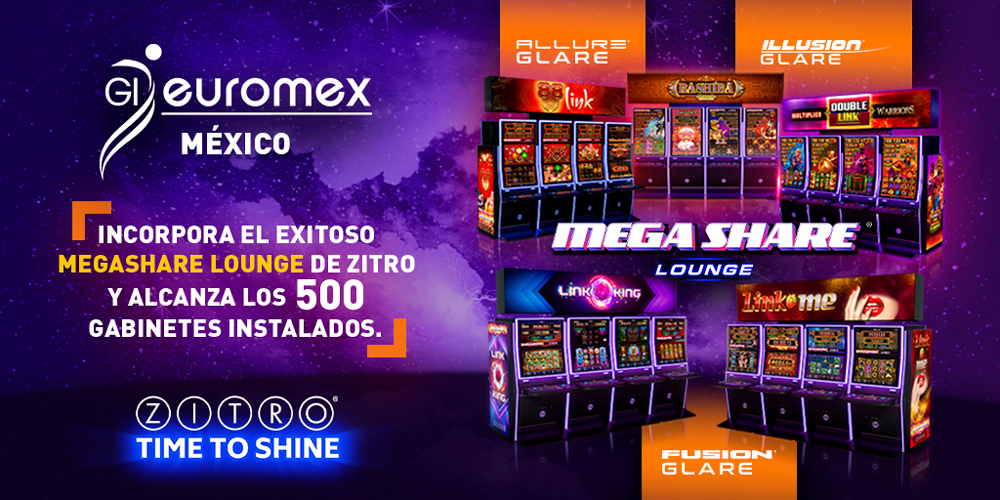 "Estamos más que contentos por este trabajo conjunto con GRUPO GI EUROMEX por incluir a MEGASHARE y Altius Glare en su operación en México. Estamos seguros de que nuestros productos continuarán siendo un éxito rotundo en todos sus casinos y que Zitro seguirá estando en la preferencia de sus jugadores con nuestra incomparable experiencia y reparto de premios", señaló Johnny Ortiz Viveiros, fundador de Zitro.