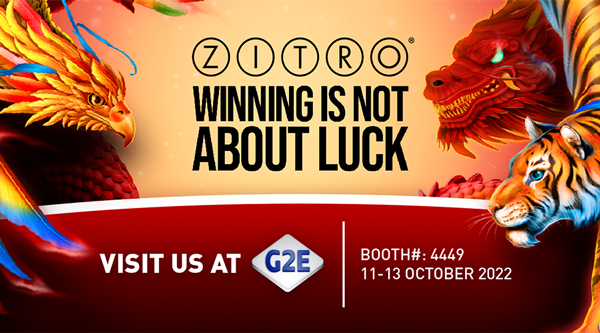 Zitro will exhibit its new product lineup at the upcoming G2E Las Vegas, to be held October 11-13 at the Venetian Expo. At booth #4449, the company will showcase its latest innovations designed to drive revenue growth and player engagement.  With a philosophy of providing high quality products and the most reliable service and technology, Zitro will unveil a diverse portfolio of gaming products that are the result of the hard work and commitment of its team and leadership. Zitro's reliability, first-class support and constant drive for innovation have been the key to the company's success, because Winning is not about luck!
"The company is proud to be part of the world's biggest gaming industry event during a period of exciting growth in the tribal gaming market, thanks to the efforts of our team, and the trust operators have placed in our products," said Derik Mooberry, CEO of Zitro USA. "We are looking forward to meeting with customers and friends at G2E, as well as sharing our latest innovations".
Zitro promises a series of exciting surprises and products that will see the light of day for the first time in Las Vegas. These latest innovations demonstrate how operators can benefit from brilliant ideas and increase profitability though state-of-the-art gaming products. Among the novelties, Zitro will showcase a diverse lineup of games featured on the 4 different GLARE form-factors.
"Over the past year we have focused on creating new and high-quality products that will revolutionize the gaming industry. Innovation is our growth engine, and the entire team is excited to showcase our new gaming content coming to market." added Derik Mooberry, CEO of Zitro USA.
"G2E Las Vegas will be the undisputed evidence of Zitro's determination and commitment to become one of the world leaders in the gaming industry and, I have no doubt, that thanks to the talent and determination of our team, the goal is getting closer and closer", concludes Johnny Viveiros Ortiz.