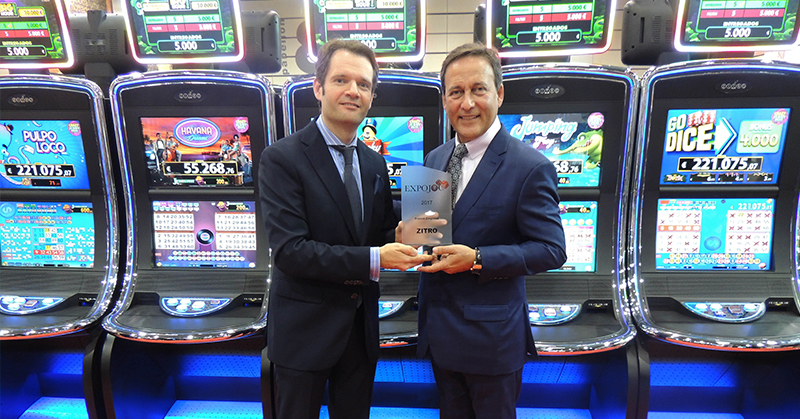 Zitro has received the award that Expojoc gives to the "Best Company" of the year during the recently closed edition of the tradeshow that has taken place in Valencia. A jury composed of outstanding gaming industry entrepreneurs selected ZITRO for this annual EXPOJOC award. Johnny Ortiz picked up the award and stated that "it is a great honor and great joy to obtain recognition of the work done well by the industry, especially this year, when our company turns ten years".
At Expojoc, Zitro presented its Video Bingo game offer for 2017, which includes up to 20 new games under the brand of Big Time. As Vicente Fernández, Commercial Director of Zitro for Spain commented: "Big Time games include titles like Pulpo Loco, Lucky Free or Havana Dreams that offer experiences that will be familiar to players of Zitro Video Bingo games, but also include others games such as Spin Bingo, Bobby Doggie or Fortune Gipsy that will attract other demographic profiles of players." Big Time also includes the programming of promotional events, such as Crazy Jerrypot, Mega Air Cash, Super Botín and Big Hour, which can be programmed to happen in the casino when the operator needs them. In addition, Zitro offers its Zitro Partnership Program, or ZPP, which includes the supply, expert advice and management of such promotional systems, as well as the communication of events in the casinos and through the innovative mobile application Buscapremios.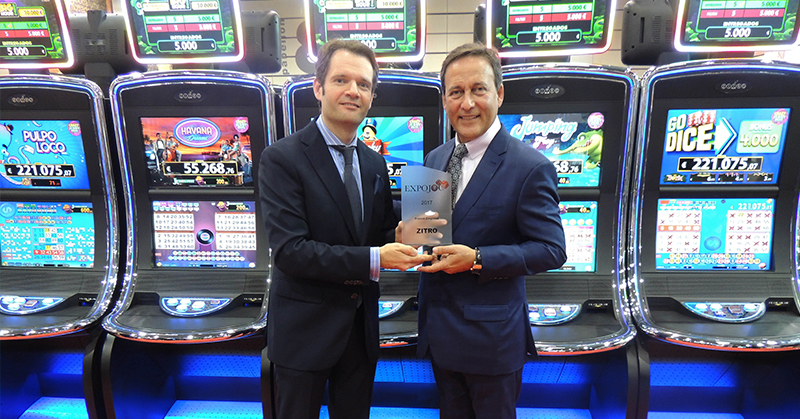 Pictured: Johnny Ortiz, President of Zitro Games, and José Ignacio Ferrer, Director at Expojoc
Zitro presented for the first time at Expojoc it's Bryke Video Slot machines with the Pick & Win series of multigames, attracting many visitors to its stand.  Each set comes with five different games and two progressive jackpots.  Sebastián Salat, CEO of Zitro, tells us that "we are having a very positive response from the operators of Bingo Halls and Casinos who have already been able to experience our proposal of video slot games. We are particularly grateful for the interest in BRYKE shown by Valencian customers. We hope to supply the first units soon, with the confidence that BRYKE contributes significantly to increase the commercial attractiveness of the gaming establishments of the Valencian Community ".
Zitro also had an important presence in the conferences held in Expojoc, with the participation of Cristina García as moderator in the Round Table composed by relevant regulatory authorities of the gaming industry. Cristina García, Director of Institutional Relations at Zitro, said: "At Zitro we firmly believe that dialogue with all the main players in the industry is absolutely necessary to ensure that our powerful message is delivered with the clarity that the industry needs and deserves. Our participation in moderating the roundtable "Gaming Regulators" has been a sign of our commitment to facilitate this much needed dialogue. " One more year, Zitro has a very positive balance of its presence in the Game Fair Expojoc as Manuela Jiménez, vice president of Zitro says: "We have received a multitude of visitors at our stand coming from all over Spain. Customers, authorities and friends have come to get to know our proposal to renew the industry with our new range of products. We congratulate EXPOJOC for creating an excellent meeting point for all of us. "